ARCHITECT, PLANNER & GREEN BUILDING CONSULTANT

San Francisco Bay Area and South Lake Tahoe area


Mountain View, CA
Office 650-963-9698 Cell 650-888-2328

lee@lee-mei.com


California Registered Architect, AIA, 17 years design experience
Certified GreenPoint Rater/Advisor, New Homes; and Advisor for Existing Homes
USGBC certified LEED AP

SERVICES

ARCHITECTURAL DESIGN & PLANNING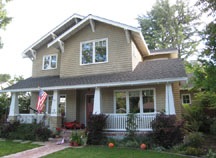 New Homes, Additions and Remodels
Floor Plan Redesign
Interiors and user friendly Ergonomics

Spatial & Usage Reorganization
Lifestyle Planning--to add? to rebuild?
to move? or simply re-organize

Special area of interest: Solar orientation and passive solar design--maximizesouth facing windows, to allow the sun keep your building comfortable as its path changes with the seasons, without even bothering with blinds or curtains. To benefit more, add exterior/interior blinds or shades, programmed or manually controlled, and trees, especially deciduous ones.

Basic rate: $120 hourly
Introductory calls and first hour of consultation are always FREE, at your site.
Pro bono design services available for low income multi-family residences
GREEN BUILDING RATING & ADVICE


GreenPoint Rating --in order to reduce workload, new projects for GreenPoint rating are no longer accepted. Consultation on GreenPoint Rating issues is still available.

Green Building Consultation--goes beyond local or state requirements, and GreenPoint rating of Build It Green, or LEED certification levels of USGBC. Services tailored to the goals and programs of the project, to help the client achieve the highest level of sustainability, comfort and health consistent with their budget, schedule, lifestyle and values. Introductory rates are $50/hr for the first 10 hours, then $80/hour.
Note, to avoid conflict of interest, BuildItGreen prohibits anyone on the design team from rating the project. That is, the green building consultant and GreenPoint Rater have to be different individuals.


OTHER EXPERIENCE

Consultant Planner for City of Palo Alto, specializing in design review of 2-story homes since 2005.

Board Certified Family Physician, M.D., FAAFP, special interest in ergonomics