Climate Change Actions

Smaller is Better, Less is Better
Pay attention to everything you do. Do you really need it? Follow the tips from the news, your garbage company, your utility company, your work, your friends and neighbors.

Carbon Offset
Enjoy checking out your carbon footprint
To do your part:

Pay a little extra for renewable energy if your utility company offers that.

Take public transit.

Eat less meat

Plant more trees.

Fly less.

Save water.

REUSE everything, including YOUR HOME, recycle.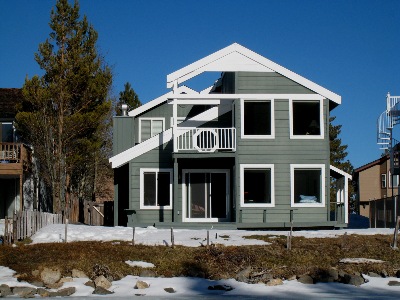 At this Tahoe house, despite the narrow lot and narrow south side, abundant glazing strategically placed on this south side achieved the goals of passive solar design. The low winter sun penetrates the house deeply through windows and keeps the whole house at 67 deg.F with the thermostat set at 62. The thermo-mass of just regular building materials keeps the heat and release it slowly to the indoor air after sunset, so that the heater does not kick on till 9:00 pm. Thermo-mass effect can be enhanced by thicker sheet rock, concrete floor slab, tiles, masonry, and even water in tanks or bags.

For a classic reference, check out Bruce Anderson's Solar Energy, Fundamentals in Building Design, or download for free Passive Solar Energy-Home Owner's Guide on Natural Heating and Cooling, which he co-authored with Malcolm Wells (1996?)

Building Science tips

Did you know that the heat register supply grille has a lot to do with your heat supply flow rate and its ability to mix your air to reduce stratification (sunken cold air)? When you have parts of your house being too cold or too hot, you may well correct it rather easily by the right grille. Consult a professional.

Did you know that it is equally or more important to air-seal your house as insulating your house? The air tight boundary should coincide or align with your insulation, otherwise it is like carrying your down jacket on your shoulder and not wearing it. The framing of the average house, even a new one, leaves a lot of air gaps in the stud walls, holes at can lights, electrical outlets, etc. Not sealing these is like wearing your down jacket but not zipping up.

To learn more, go to http://www.homeperformance.org/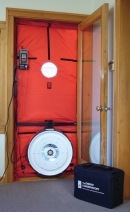 Home Performance Testing and Retrofits
Blower door test, as shown in photo to the right, tests for home envelope (shell) leakiness. Test before and after air sealing and insulation to document effectiveness. Your energy bills can testify to your energy savings, and your body will witness the improved comfort.

Building science is a relatively young field. Global warming and impending fossil fuel shortage is pushing it ahead with great acceleration. To find the highest quality contractor in this field, go to Building Performance Institute BPI.org, or look up Energy Upgrade California.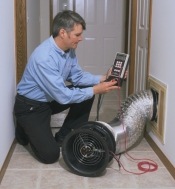 Similarly, Duct Blaster can test for heating duct leakiness before and after the retrofitting work.

These are just a couple of the many aspects in which a certified BPI contractor can help with the comfort, safety and energy efficiency of your home.

Energy Retrofit Rebates and Tax Credits
Too many to keep track of? Easy, just go to FlexYourPower: energyupgradeca.org
and type in your zip code.

Water Conservation
Water is likely to be the next major resource crisis for our planet. In California, water already consumes 19% of our total electricity, and 30% of our non-power plant natural gas for processing and transport.
Do your part, get your free water audit from your water district. For Santa Clara Valley water District, go to www.valley.org

The Passiv Haus (Passive House)--a very tight house

This is an idea and movement started in Europe, not to be confused with passive solar design. This works even if you are a north or west facing unit of an apartment building. This is a house/building built so tightly and insulated so well that you can basically use a hair drier to heat it. Learn more from the Passive House Institute US.

New Urbanism

New Urbanism.org : "New urbanism is the revival of our lost art of place-making, and promotes the creation and restoration of compact, walkable, mixed-use cities, towns,..."

Here, we are talking about much larger scales of low carbon footprint lifestyle, including high density developments at transit hubs. This far exceeds the impact of the usual green building measures. We won't even need cars! We must keep this future outlook in focus as we hope to reverse global warming.

The majority of US residents polled actually prefer new urbanism lifestyle than the detached suburban single family homes, where they had to drive each kid to everything. No wonder we fly all the way to Paris for a few days just to get a taste of it.

Design Review Tips

After 11+ years of working as design review planner (Palo Alto) and 17 years as designer, it is clear what most cities are looking for. Study their guidelines and follow them. Ask questions to gauge how seriously they take each point, and the acceptable ranges. Planners are actually nice people who also want your project to succeed. So show them the preliminary plans or sketches.

As far as composition and details of the building, start with a style you and your client prefer and stick to it. Make sure each component fits in that style. Refrain from throwing in every feature the client wishes, unless they all work together as a coherent whole that anyone can be proud of.

Review guidelines often restrict height and perceived mass. They must be pro-sustainability also! You can disguise height and mass with roofs and covered porches. You might also have to convince your client that excessively high ceilings make spaces hard to heat.

Lifestyle and Spatial Efficiency

You won't believe it, but your life is more efficient and pleasant if your space is smaller but well designed. You won't have to walk past the central kitchen island to reach your fridge, back and forth,.... Thoughtful and accessible storage will reduce you clutter. Stylish and creative design will increase your comfort and pride.

Too many clients wish to add a family room, ignoring their dining room and living room, which are only occupied by their furniture. Others may find their garage floor clustered by their accumulated possessions, and wish a new garage. I see these as opportunities to convert a dining room into the family room, and building shelves in the garage to free up the floor. A little creativity can maximize the use of space so that everything you need is within your reach, and unnecessary barriers are opened to achieve spaciousness.

We architects need to think more about lifestyle than simply adding buildings.


This page is a continuous effort. Please come back often. Your contributions and comments are welcome. Credit will be given to significant contributors, up to a direct weblink.